Multidirectional shoulder instability (AMBRII) - postoperative program
Multidirectional shoulder instability, the key component is lower shoulder instability combined with anterior or posterior instability. General glenohumeral joint looseness leads to shoulder dislocation in everyday activities.
Joint is repaired through operative treatment where the shoulder joint is fixated by putting anchors in it that hold it together. Afterwards, using progressive strength exercises for rotator cuff and upper arm muscles, full shoulder functionality and stability is regained.
Umer Butt, MD, MRCS (UK), FRCS T&O (UK), Senior Consultant Orthopaedic Surgeon
Rehabilitation program author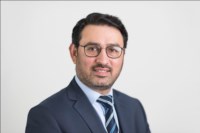 Dr Butt is a full time Senior Consultant Orthopaedic Surgeon Specialist in Knee/Shoulder Sports Injury, Arthroscopy and Arthroplasty Circle Bath Hospital UK AO Clinic Centre for Orthopaedic, Trauma and Sports Injury Karachi
Go to profile
Duration
90 days
Program duration is 90 days. If you start today on 31.10.2020., the completion of the rehabilitation program will be on 29.01.2021.
Price
US $40.00
Total price is US $40.00 or US $0.44 per program day