Anterior Bankart Repair Programme - initial postoperative program
Anterior shoulder instability (TUBS –traumatic anterior shoulder instability) is caused by direct force to the shoulder joint where the force is excesive, leading to structural damages and injuries of other passive/active stabilizers or bones and by doing so causing shoulder dislocation, ie. the head of the humerus forward, outside of the joint socket glenoid surface.
The most common mechanism for this injury to happen is falling backwards on an extended arm and the injury can happen again, become habitual (repetitive) if the initial dislocation is not properly treated and healed. Conservative approach is based on progressive strengthening of rotator cuff muscles and passive shoulder stabilizers in order to regain full joint functionality.
Operative approach implies an arthroscopic fixation of shoulder joint, ie. its structures with the use of small anchors that are put inside of the joint capsule. Afterwards a progressive range of motion, strenght and stability exercise program should be implemented to regain full shoulder mobility and functionality. Rotator cuff muscles, as the main active stabilizers of the shoulder joint, should be specifically targeted with the aforementioned progressive strength program.
Umer Butt, MD, MRCS (UK), FRCS T&O (UK), Senior Consultant Orthopaedic Surgeon
Rehabilitation program author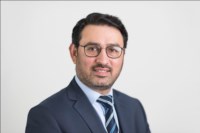 Dr Butt is a full time Senior Consultant Orthopaedic Surgeon Specialist in Knee/Shoulder Sports Injury, Arthroscopy and Arthroplasty Circle Bath Hospital UK AO Clinic Centre for Orthopaedic, Trauma and Sports Injury Karachi
Go to profile
Duration
90 days
Program duration is 90 days. If you start today on 06.12.2022., the completion of the rehabilitation program will be on 06.03.2023.